Training project manager, digital strategist by instinct and designer by passion.
In the web since 2015, I am happy to offer a wide range of skills. It presents me as a digital agency at my scale. Initially a front-end developer, then a UX/Ui designer and finally a project manager, I decide to take off to make your projects come true.
A trusted collaborator at your service
Trust is a point on which I place great importance.
– Your satisfaction and success is my priority
– The organization and the method put in place correspond to your requirements
– The quality of my services is recommended
– With a strong academic and professional background: from IT technician to project manager, including web design, UX, SEO and development.
– Complete and tailor-made offers are available
And also… Because I'm nice 🙂
Understand the user and provide them with quality content to test, analyze and optimize their experience.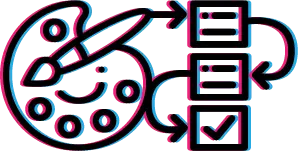 Collaborate with an artistic and functional vision
Strong of my experiences and a great autonomy, I know how to give myself time for your project success and for a continuous training on creative techniques. They allow me to ensure my versatility and efficiency both technically and artistically.
Skills & Tools
Language
French (kindergarten)
English (fluent)
Spanish (beginner)
Japanese (beginner)
Computer language
HTML5
CSS3
Javascript
PHP
mySQL
CMS
WordPress
WooCommerce
Prestashop
Design
Photoshop
Illustrator
Adobe XD
Indesign
Premier
After Effect
Projet management
GitLab
Trello
MindMap
SEO
Open site Explorer MOZ
Screaming frog
Answer the public
SEA
Google adword
Google keyword planner
Google trends
Webanalytics
Google analytics
Social advertising
Facebook ads
Instagram ads
LinkedIn ads
E-mail & Newsletter
MailChimp
SendInBlue
Office automation
GoogleDrive
Excel
Word
PowerPoint
Would you like to know more about my services and discuss your project?